What is a SERP?
Simply put, a search engine results page (SERP) is the set of results sent by a search engine based on a user's search query. SERPs are designed to help users find the information they need as quickly and efficiently as possible, often without the need to click through to a web page.
What are the Google SERP features and why are they used?
A SERP feature is any result on a SERP that isn't your traditional link. Throughout the years, Google has evolved to understand a user's intent behind a query to provide the best SERP features that can enhance a user's experience. Therefore, Google is frequently adding new features to continue its goal of optimising its search engine for the best user experience.
SERP Features and Search Intent
Understandably, as a user's search query varies, so will the SERP features that show on your screen. So, how does Google know the intent of your query and how can they provide the best results?
In 2019, Google introduced an algorithm called 'BERT' (Bidirectional Encoder Representations from Transformers) which was put in place to understand the context of all words in sentences enabling them to understand the intent behind search queries. Therefore, having this knowledge means that Google can comprehend the search query from these words and provide the best SERP feature that is relevant to users.
Common SERP Features
SERP features can be categorised into four common types; Rich Snippets, Paid Results, Universal Results and Knowledge Graph.
Rich Snippets are features that add a visual result to an existing result, such as reviews and ratings.
Paid Results are bought results by bidding on keywords, such as Google shopping results.
Universal Results are features that appear in addition to organic results (image results, news results, featured snippets etc)
Knowledge Graph is data which appears as panels or boxes, such as the weather, celebrity knowledge panel)
Based on your query, below is a list of popular SERP features that come under these four types:
SERP FEATURES
Organic Results
News Box
Paid Ads
People Also Ask
Featured Snippet
Reviews
Image Pack
Shopping Results
Knowledge Card
Site Links
Knowledge Panel
Tweet
Local Pack
Video
Organic results are the traditional blue links that aren't SERP features. These will appear due to their relevancy to the search term and efforts made through SEO. Each SERP usually contains 10 organic results, however, due to different queries some SERPs may have fewer. According to Higher Visibility, statistics show that 53% of website traffic comes from organic links, making it the clear winner of SERPs.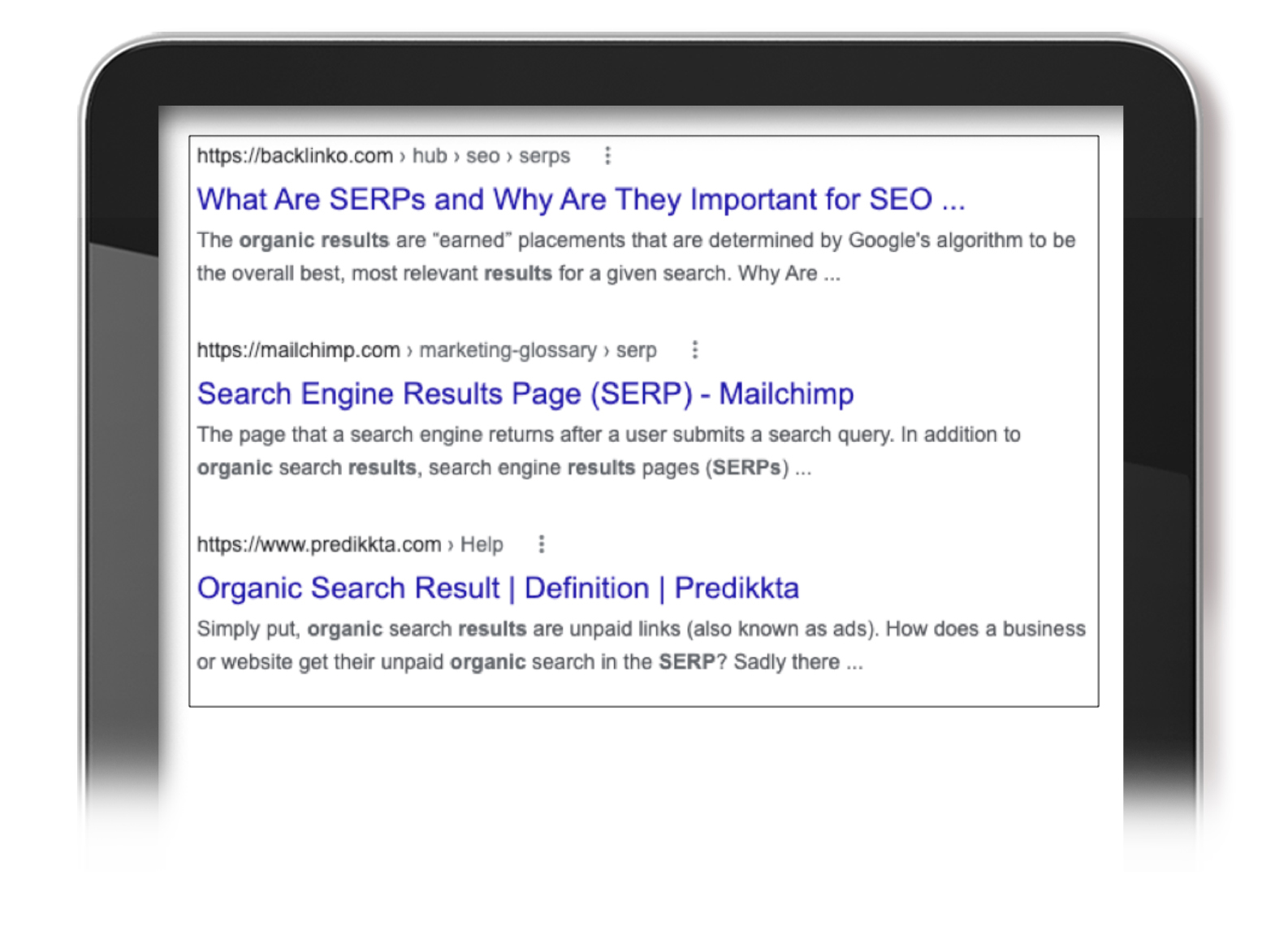 To get the most out of your digital marketing activities, it is important to understand the difference between organic results and paid advertising. Paid Ads are marked with a small "Ad" icon in the top left corner of their snippet and can be obtained by bidding for keywords. As well as bidding, these results are primarily ranked based on how relevant and useful they are to the user.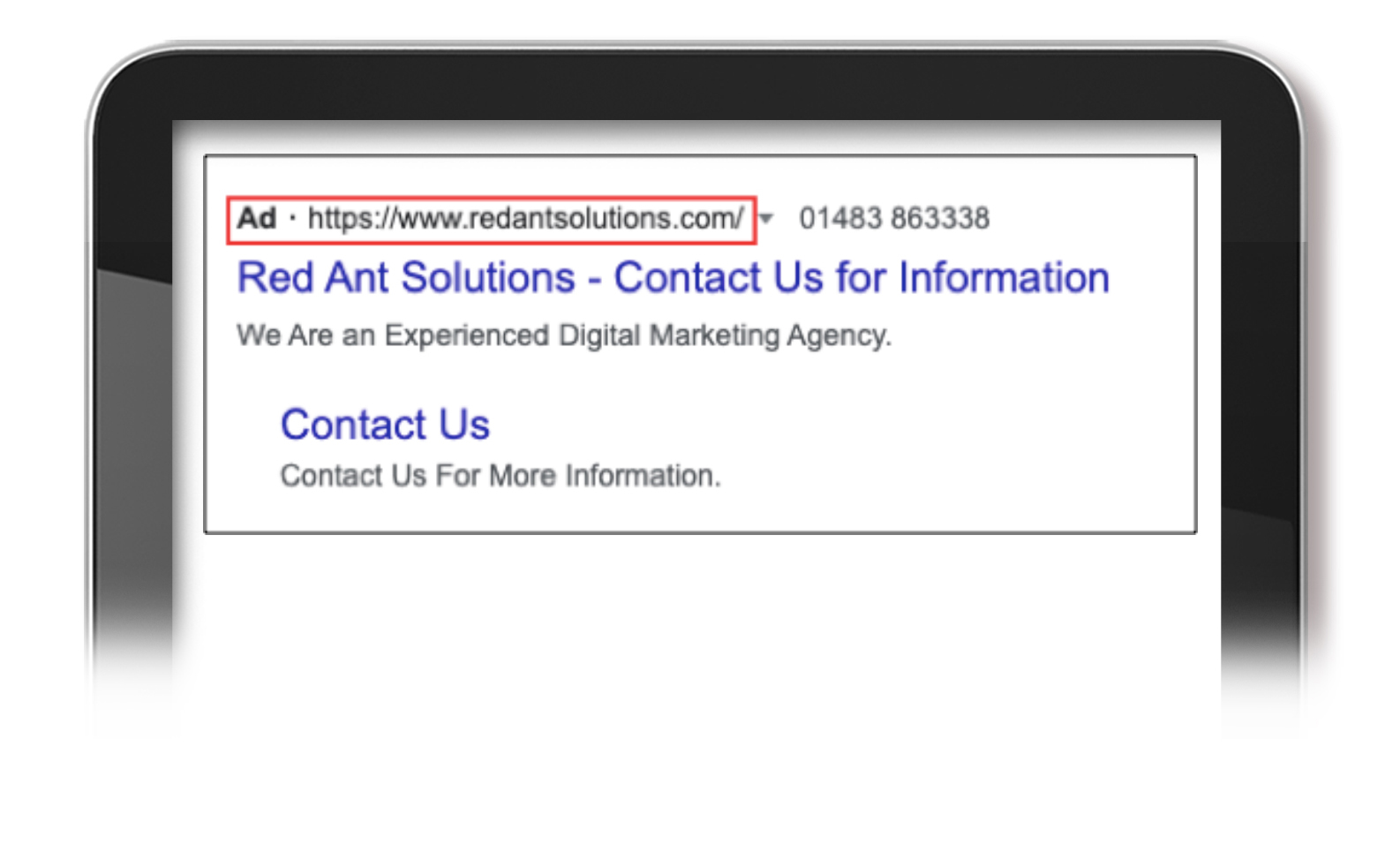 A featured snippet is a summarised answer to the user's search query that appears at the top of the search results and is therefore referred to as 'position 0'. Being placed above the organic links understandably gives them a higher click-through rate as it allows users to easily discover what they are looking for. You may come across several different types of featured snippets such as definition boxes, tables, unordered lists and ordered lists (as seen below). According to research by GetStat, featured snippets appear on 11% of 5.5million SERPs. Featured snippets are chosen through Google's automated systems that determine whether a page is relevant enough or suitable for a featured snippet. Therefore, it is important to optimise your content correctly to ensure Google can see your web page as a good option for a featured snippet.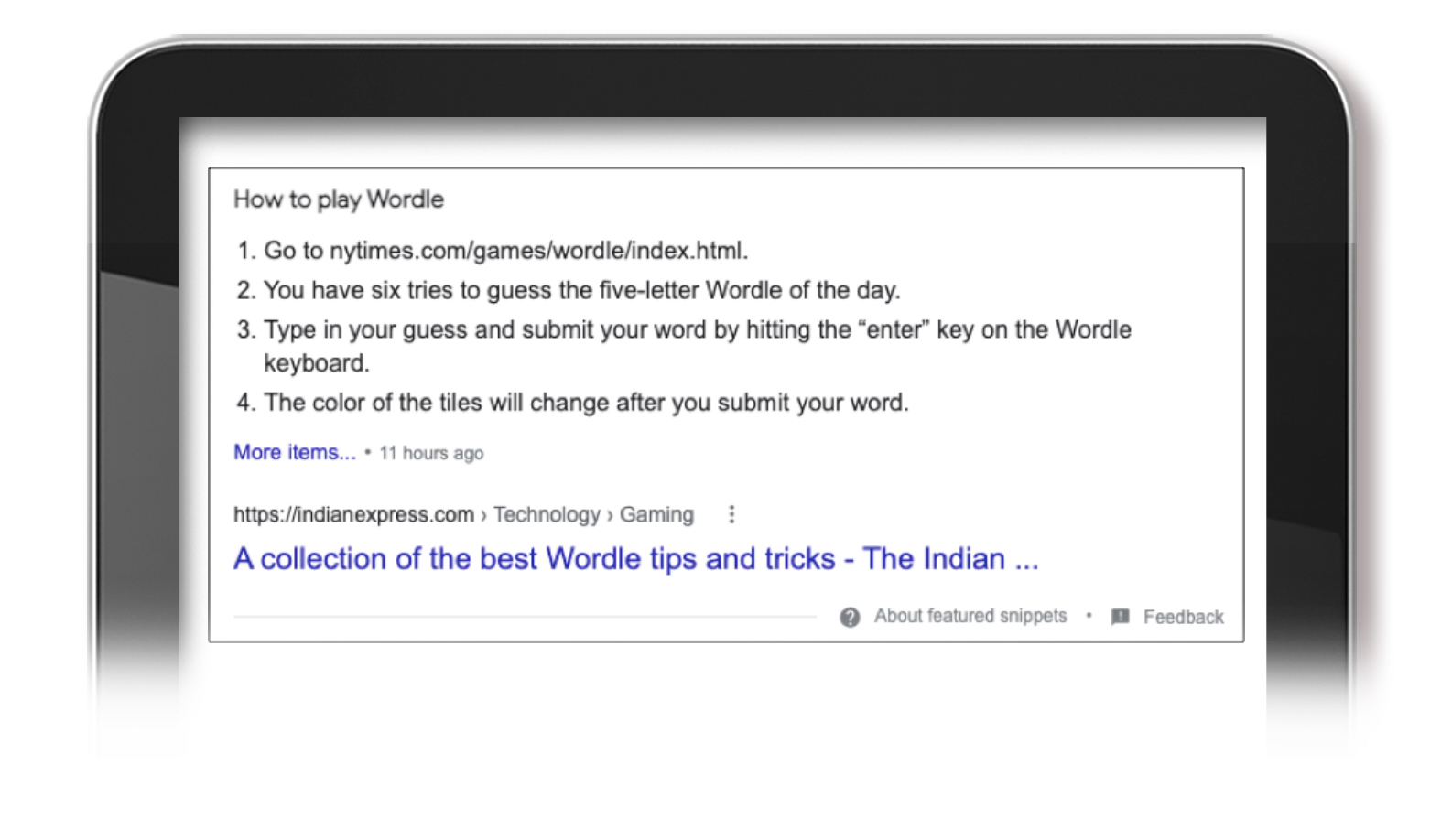 In organic results, image packs can appear anywhere, usually as a row of images. When clicking on one of the images, it will direct you to a google image search instead of a particular website.
To gain an image pack, it is best practice to optimise your images by creating a descriptive alt-text, formatting and compressing image sizes and creating a descriptive file name.You can even add images to an existing sitemap or create a separate sitemap specifically for your images.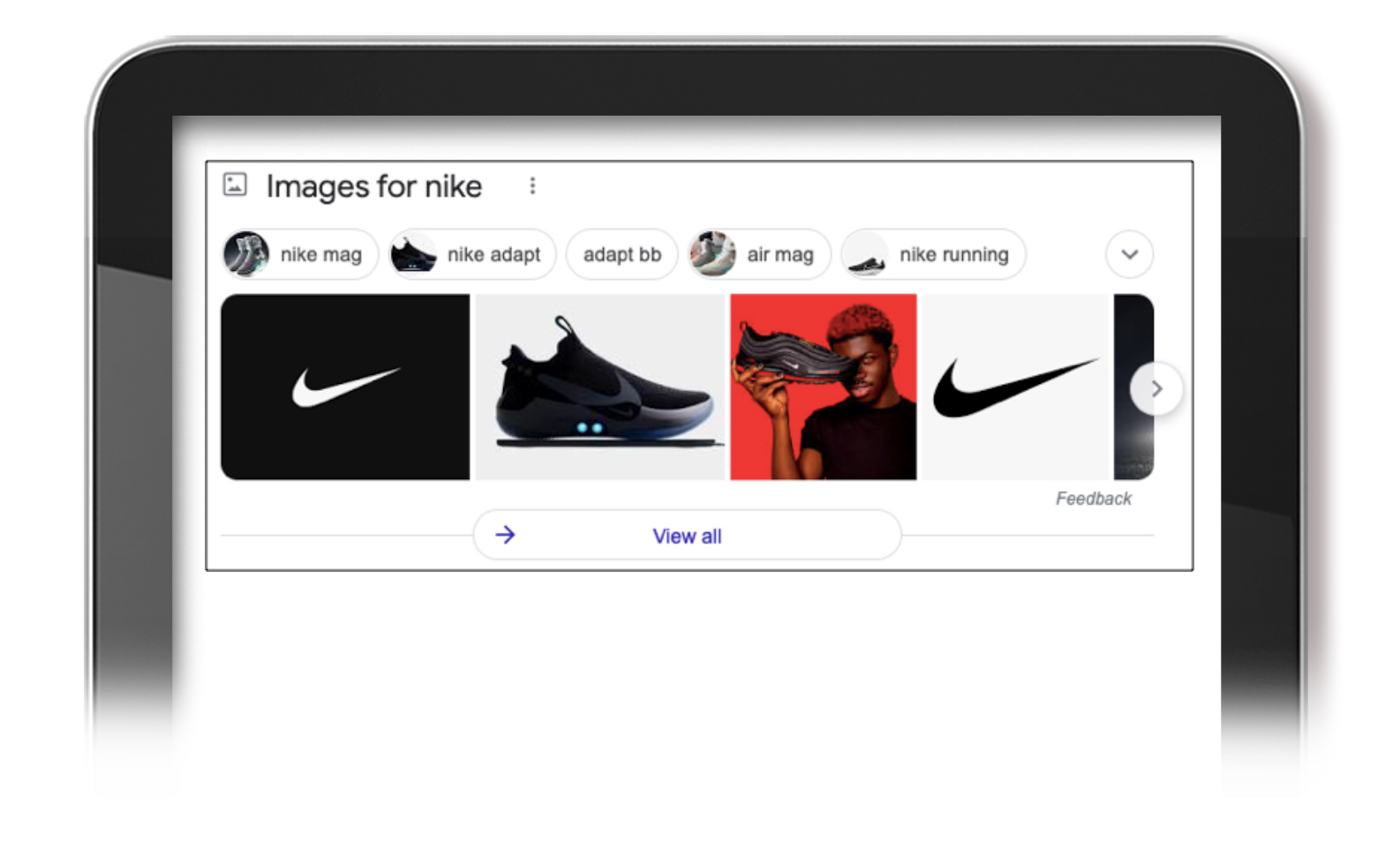 Knowledge cards typically appear at the top of a SERP and are provided by Google to deliver in-depth information that is relevant to a user's query. Knowledge cards pull in data or answers that the user has questioned from knowledge graphs and is small snippet of information that gives an immediate answer to users. They are also either based on human edited data (Wikipedia) or based on pre-existing data agreements, therefore, it is very challenging to obtain one for most sites.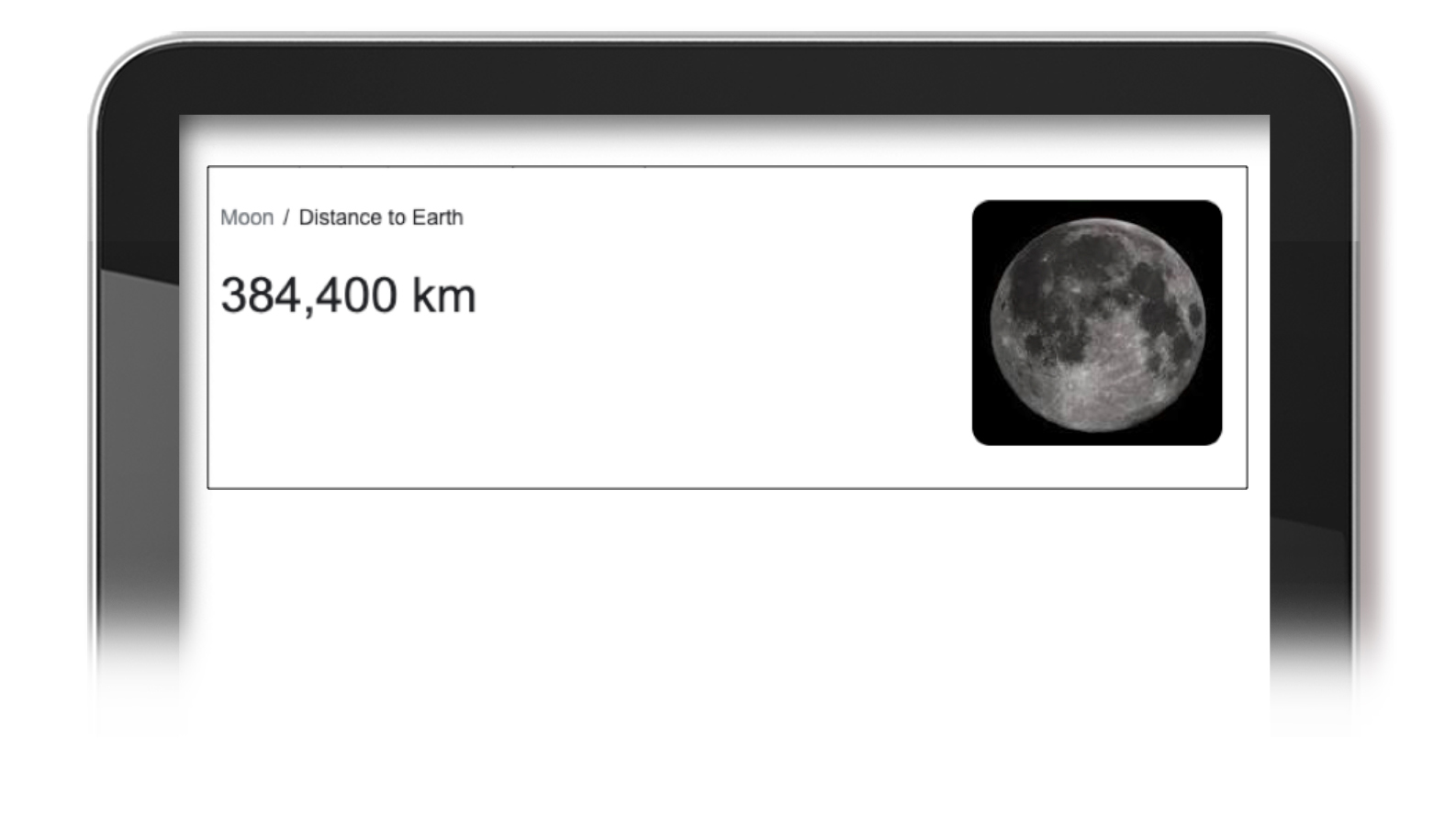 Similarly, to knowledge cards, knowledge panels are extracted from human-edited sources and data agreements with partnerships. Knowledge panels typically appear to the right of organic results.
For any query that has a local intent, the local pack appears on the first page of search results. This SERP feature usually takes three physical locations that are ranked on how relevant your business is to the user's query based on Google's search algorithm. Statistics shown on Brightlocal suggests that of the approximately 40,000 google searches made every second, 46% of these have local intent, meaning a huge number of people are seeking information in their local area everyday.
To add to this point, these features understandably dominate the SERP on mobile, therefore it is important to be familiar with local SEO as this can improve your digital presence enormously.
You can start optimising your business online to gain a local pack by creating a Google Business Profile ensuring your name, address and phone number (NAP) is consistent across several online directories, targeting localised keywords on your website and many more.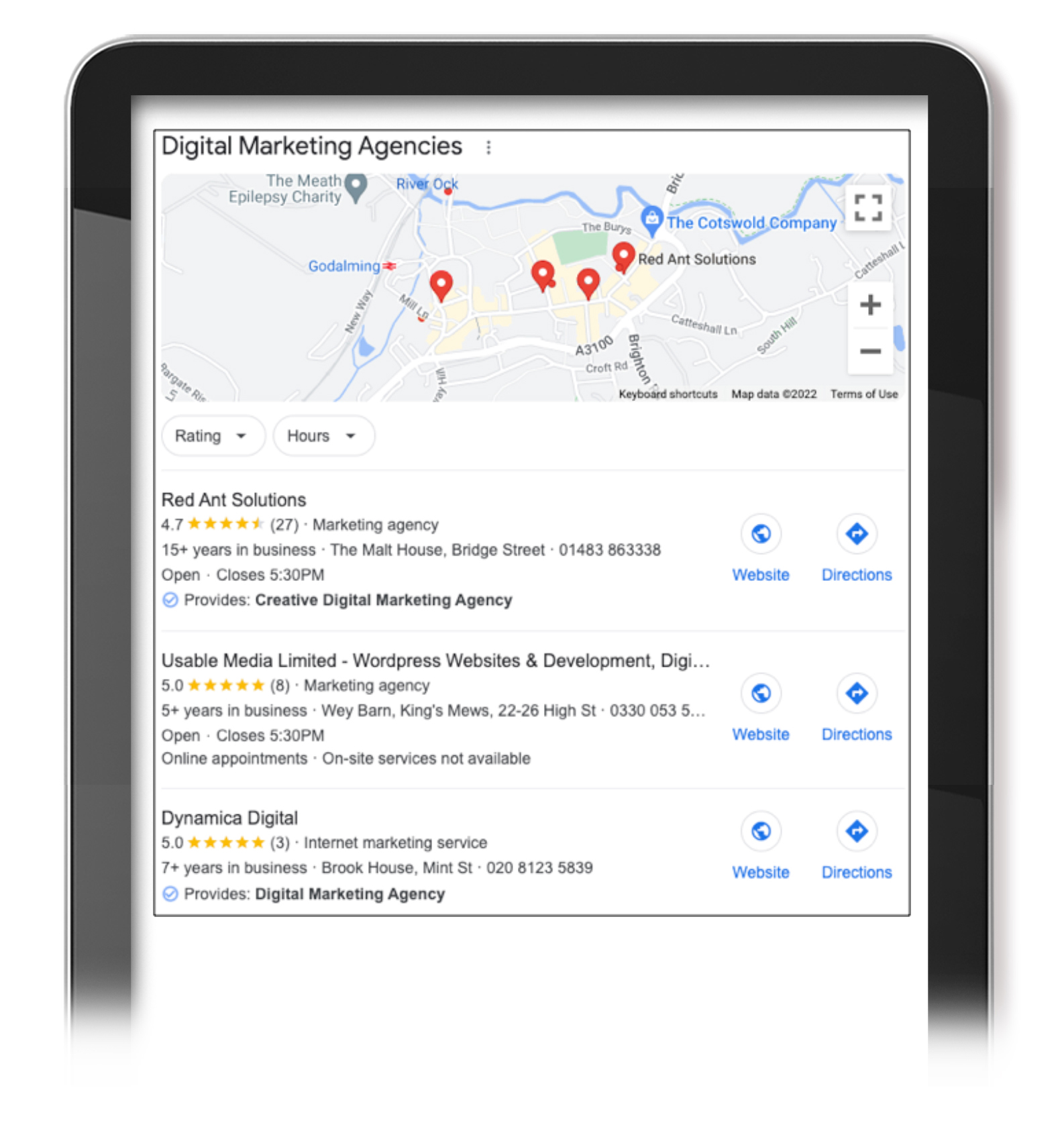 Top Stories (also known as News Box) is a SERP feature that displays news stories relating to a search query. To gain a top story on a SERP, requires a unique process in comparison to organic results as you will have to set up your publication in Google's Publisher Centre. This process is required by Google to ensure your news source is up to their standards as they look for sources that are accurate, hyper-relevant and do not contain inappropriate content.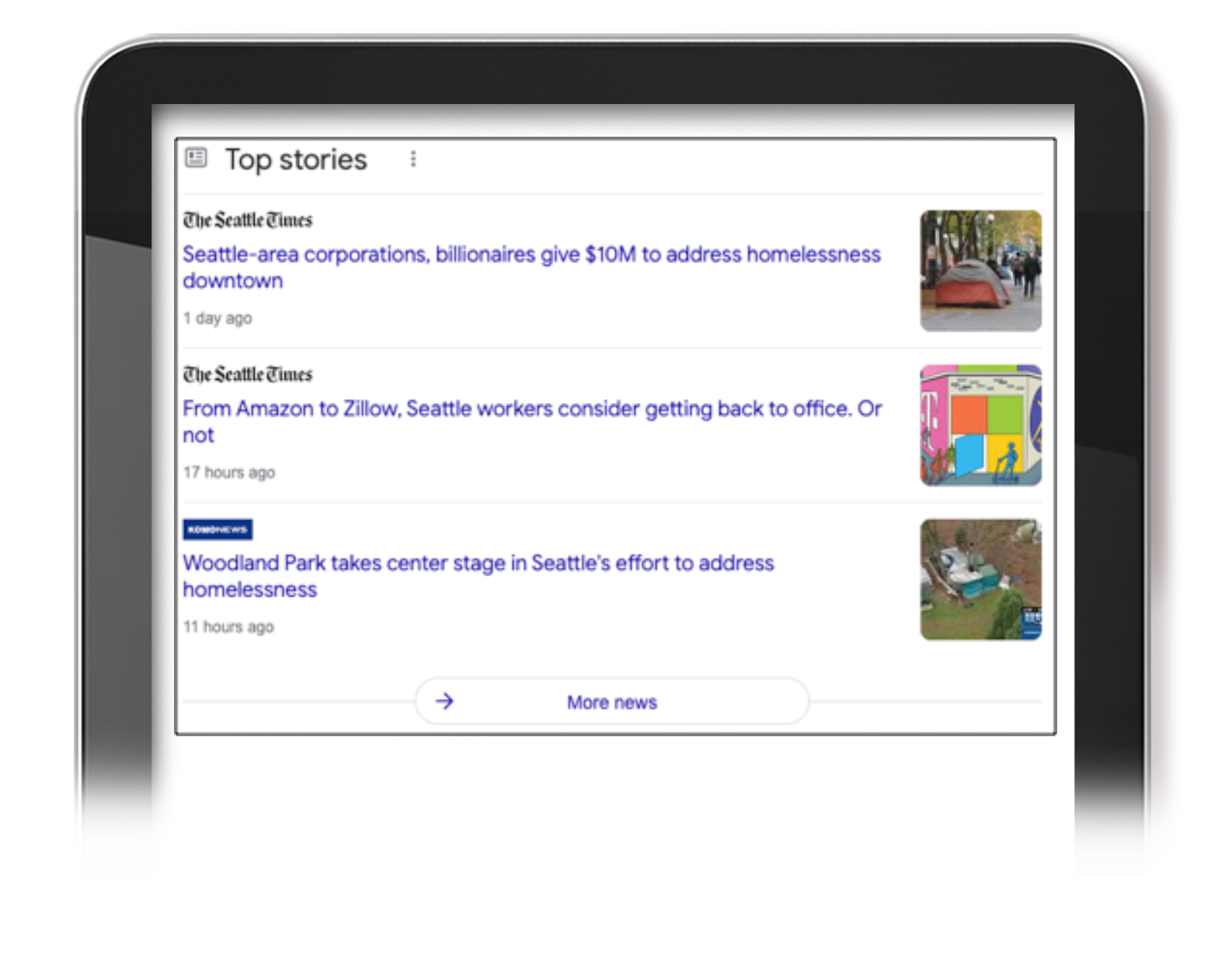 People also ask (also known as related questions) can appear either at the top, middle or bottom of a SERP and are generated questions that Google's systems have deemed to be related to your search. According to Advanced Web Ranking, people also ask boxes appear in nearly 35% of all UK SERPs.
Gaining a people also ask feature will not only boost your click-through rate but will provide a better user journey which is Google's ultimate goal.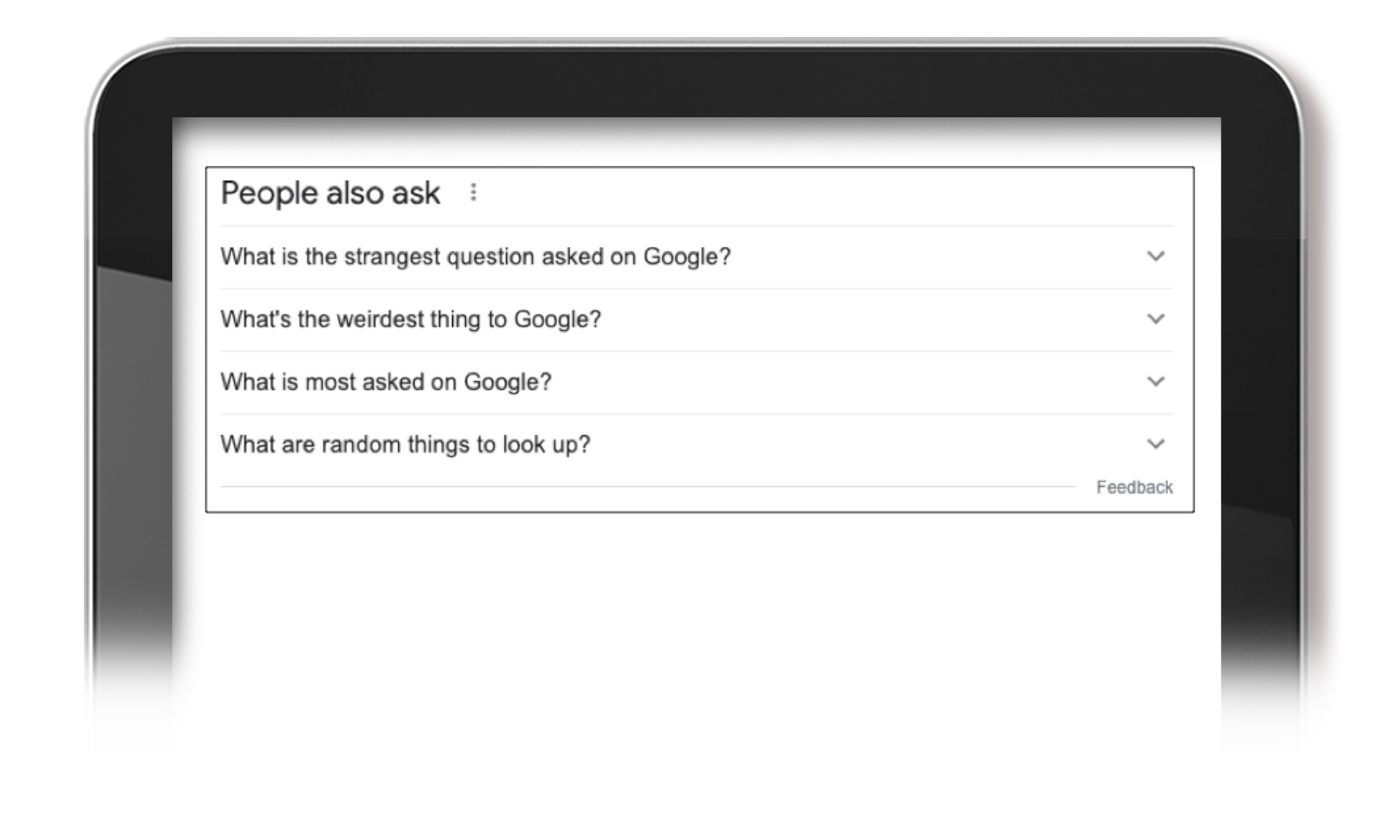 Some queries regarding recipes, products, and other relevant items can show star ratings and review data. The review/rating data is shown between the destination URL and snippet as seen below.
For your products, services, recipes and many more to be eligible for reviews, you must ensure that the correct schema markup has been applied.
A shopping result is also known as a paid shopping result or a product listing ad (PLA) that showcases products directly with rich information such as images and prices. As these features are paid to be displayed, they are typically shown at the top of a SERP.
To obtain a shopping result for your product you will need to get started on the Google for Retail site and start a smart shopping campaign.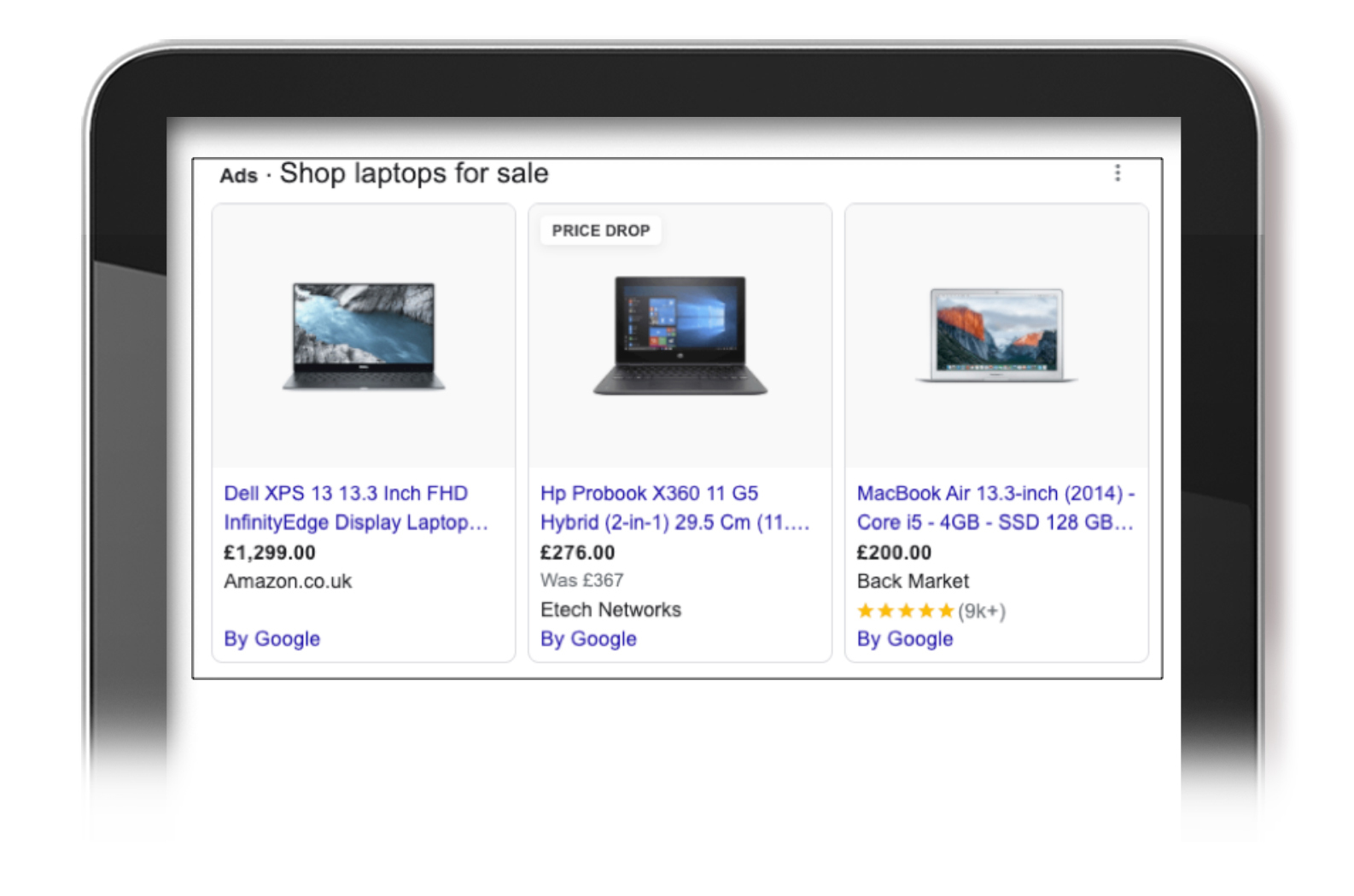 Site links are commonly shown when a user has a navigational intent, which means that someone is searching for an exact domain or website. The site link SERP feature on Google may display an expanded pack of up to 10 site links. The full pack of sitelinks occupies five organic positions, thereby dominating the SERP.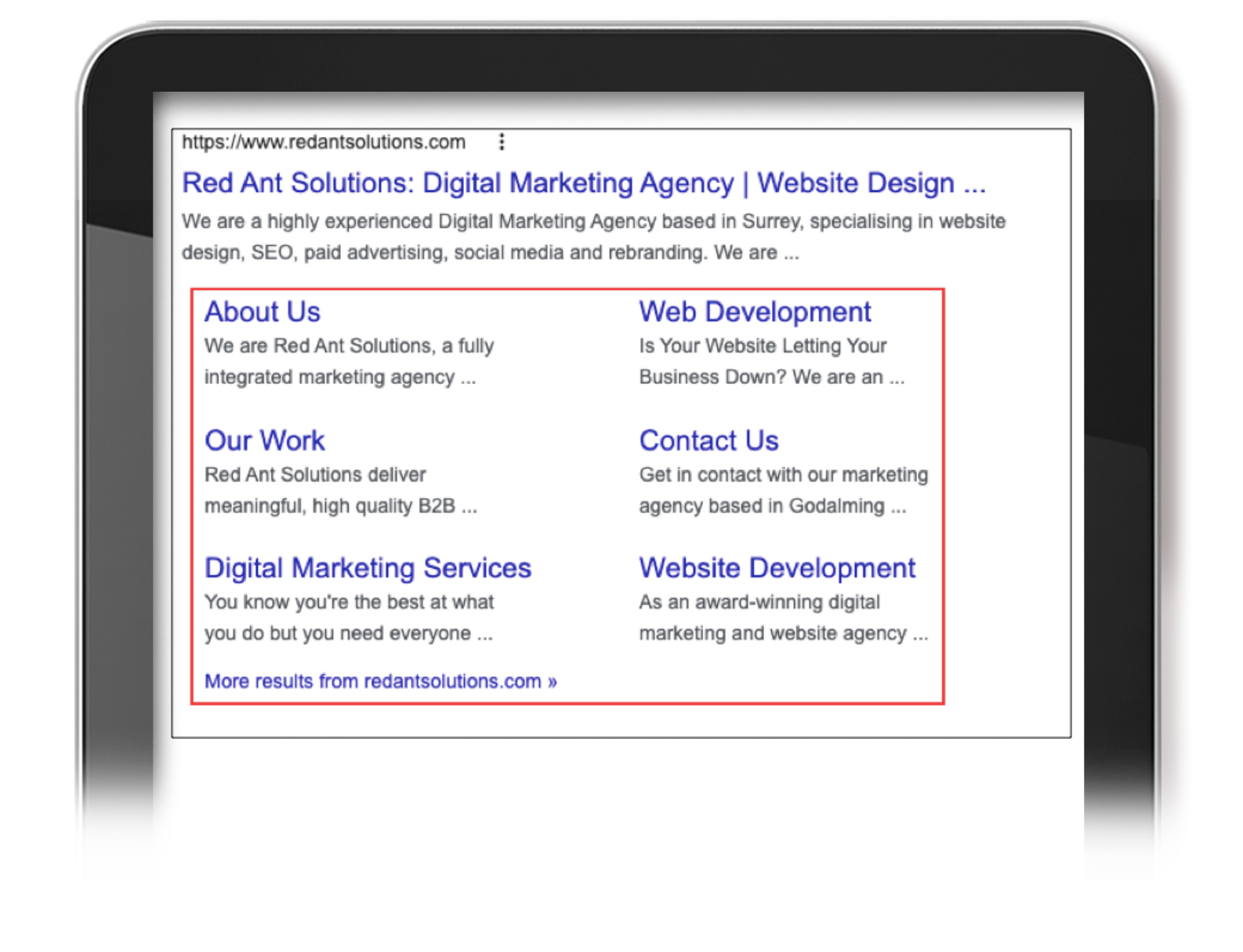 The Twitter feature is displayed directly under the search result for queries related to brands, movies, celebrities and more. In 2015, Google added Twitter features in SERPs to provide real-time access to news and updates from accounts on Twitter, ensuring users have a better experience.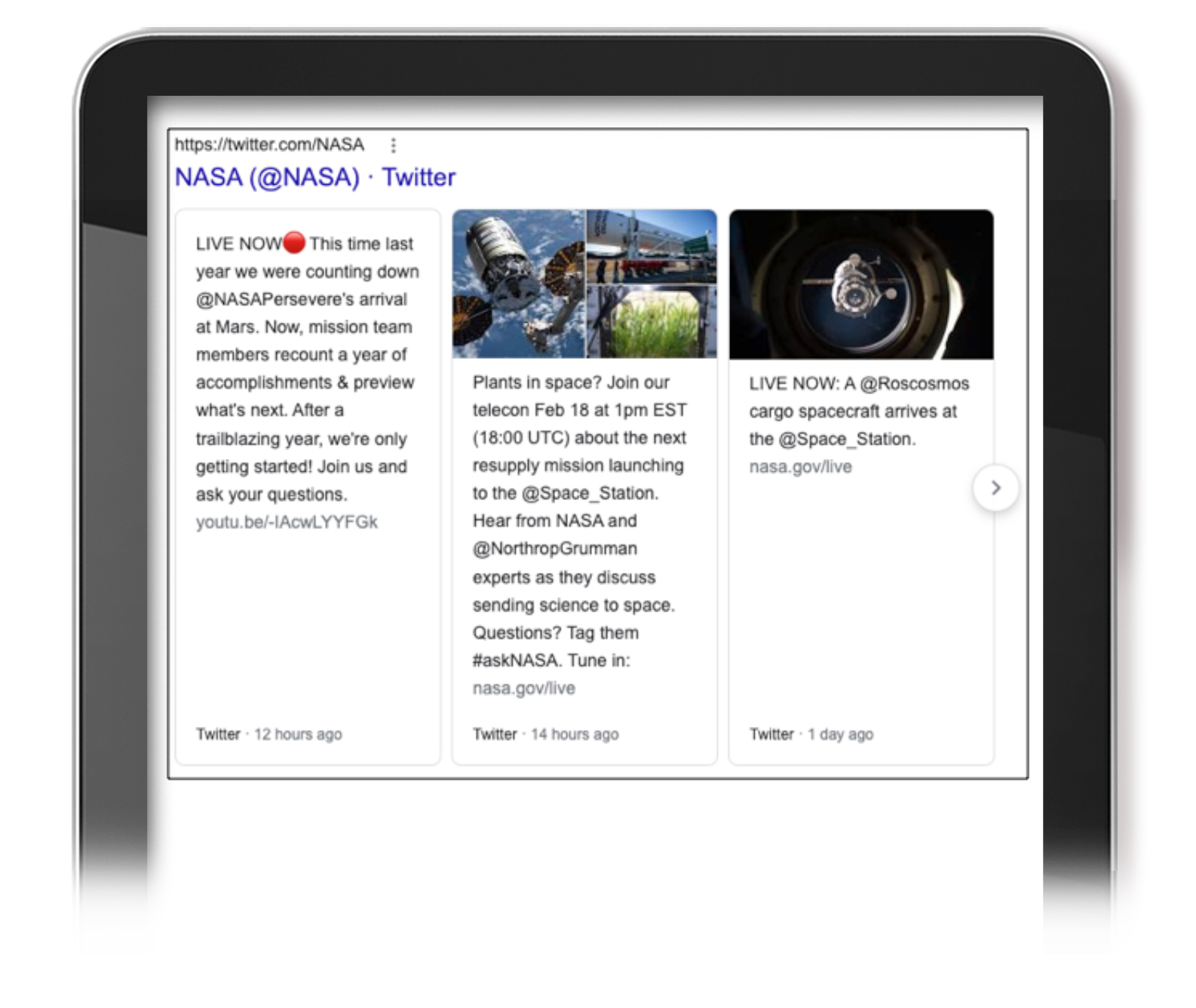 Video results on SERPs usually come from Youtube or embedded videos on websites and they are typically displayed in video search results, Google Images and Google Discover.
A blog by Moz in 2020, has evidently shown that Youtube videos dominates Google SERPs with a prescence of 94.2% in video search results. We were also surprised to see that from research carried out by Platonik, approximately 35% of search results in the UK contain a Youtube video.
Going off these statistics, if you're creating videos to add to your digital prescence, it is important to understand how to obtain these features on SERP results. In more recent times, Google has been working on ways to enable users to enhance their videos on SERPs and this can be attained by adding structured data to your videos.
By using VideoObject schema type, you can explicitly provide information of your videos such as description, thumbnail URL, upload date and duration.
When broadcasting a live stream, you can obtain a 'LIVE' badge by marking your video with the BroadcastEvent schema type. These are common for sports events, live streaming video games and influencers.
You can also enable key moments to your videos by using Clip structured data or SeekToAction structured data. Key moments will be displayed underneath your video result and can be helpful for the users trying to get the exact information from your video as quickly as possible.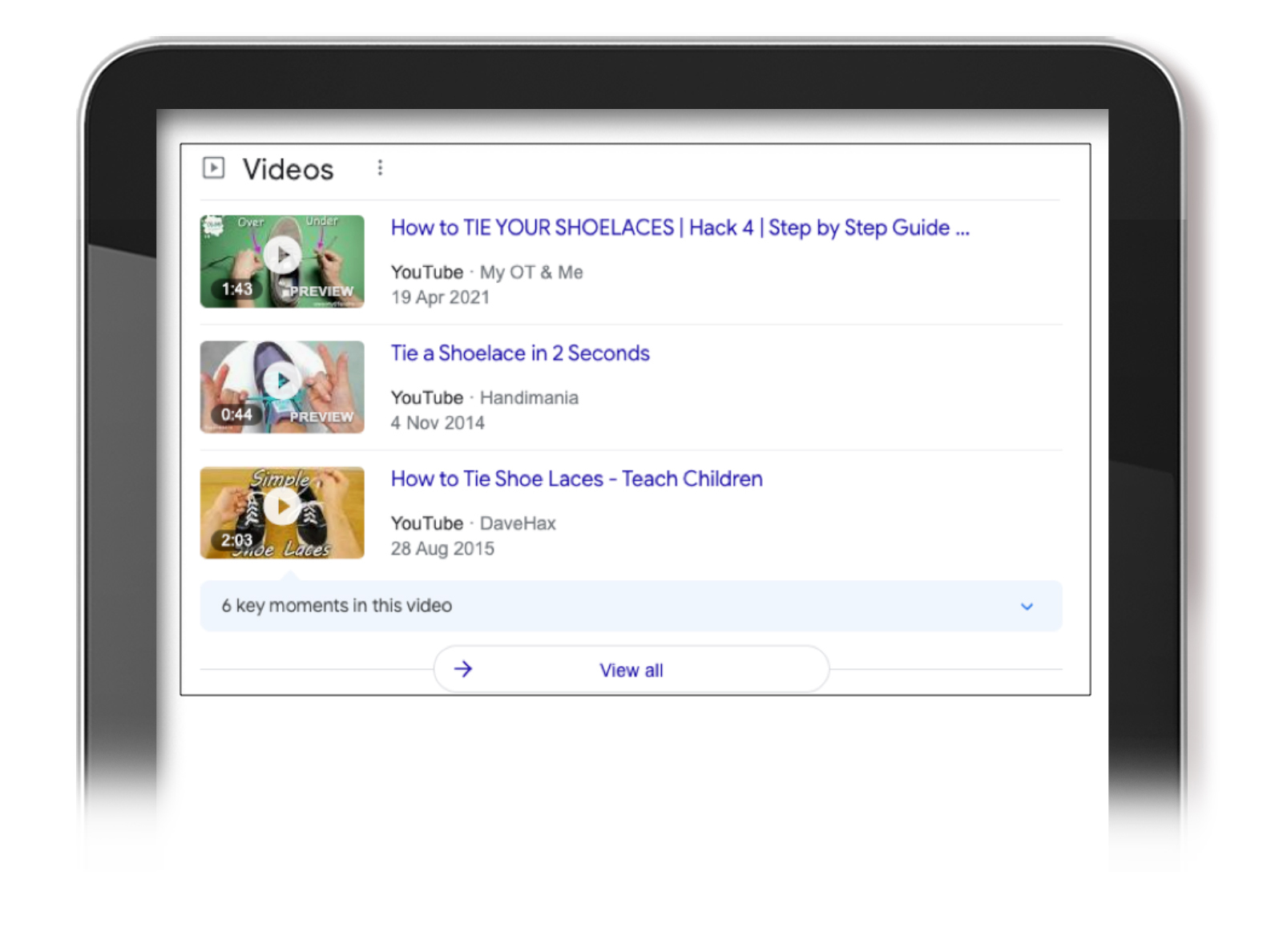 So, How important is SERP Features?
As a user of Google's search engine, there is no doubt that SERP Features provides a good user experience. Being able to find accurate information immediately with a single search is the way technology has been evolving the past few years and it is a huge benefit that we may be taking for granted.
Gaining SERP features as an organisation is just as advantageous. Not only does it allow us to better understand user's search intent, but boosts CTR and website traffic enormously.
Therefore, if you are looking to boost your conversions and gain higher amounts of traffic to your website, it is key to understand how to optimise your pages for SERP features and we hope this guide has helped you do that. If you want to find out more information on how your business can gain SERP features online, get in touch and our expert team will be happy to assist.