Why is Mobile Page Speed Important to SEO & Google Search Rankings?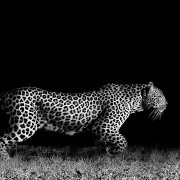 Survival of the fastest
According to Google, 53% of mobile users leave a page if they are waiting 3 seconds for it to load, and if this number rises to 5 seconds, the chances of the visitor bouncing off increases by a massive 90%!
Mobile page speed should be at the forefront of any Web Design and SEO campaign, so let's discuss how you can improve your mobile page speeds to increase your User Experience (UX) and Google Search Rankings.
What is Page Speed?
Firstly, you need to understand what page speed is and why it's important; but before we go any further, you need to check your page speed with Google's PageSpeed Insights or this alternative mobile speed checker to see if it takes longer than 3 seconds to load (which is Google's maximum recommended time).
Page speed is the amount of time required to completely display all of the content on your page once the user has clicked on your link. Your goal is to deliver this content as quickly as possible so that the user can start interacting with your site.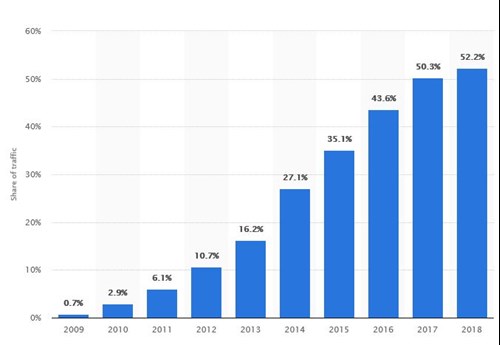 This graph has been produced by Statista, a well established leading provider of market and consumer data. They have conducted research into the percentage of all global web pages served to mobile devices worldwide from 2009 to 2018. The figures are outstanding. The percentage has risen from 0.7% (2009) to 52.2% (2018). This means that more web pages are being served to mobile devices than they are to desktop.
So, mobile usage has grown immensely over the last 9 years, but why is mobile page speed becoming increasingly important to Google search rankings?
Google's Speed Update
Google released the Speed Update back in July 2018 which makes mobile page speed an important ranking factor for Google search rankings, especially alongside the Mobile-first Index released in March. What this means is web pages that take longer to load than others may be ranked lower, but only in certain circumstances.
For example, say you and one of your competitors both have strong, rich content which is relevant to and answers the users search query, but your site loads 2 seconds slower than theirs. In this situation, your competitor will out-rank you on Google's search page and will ultimately gain more site views along with having a more enjoyable user experience.
Scary right?
Absolutely, so how could you go about improving your page speed in order to outrank your competitors?
Our 5 Top Tips for Optimising Your Page Speed
Now that we've explained what page speed is and why it's important, we'd like to give you 5 ways to bring your load time right down:
1. Image Compression:
Large, uncompressed images are one of the biggest offenders for delaying web pages from loading. Shrink those images down!
If you have a technical team in-house or use an external company, let them know that you're website is suffering, send them your page speed report and let them know what needs to be done.
An extra technique that you could also try is using compression tools such as CompressJPEG or tinypng to compress the amount of data being processed by the server every time your page loads.
2. Reduce Excess Resource Data/Scripts:
Redundant, unused and excess data within your code can also slow down data translation and page speed. Through the process of Minification, you can drastically improve your page speeds and consequently your Google rankings. Use tools such as html-minifier or JavaScript Minifier to do this.
3. Landing Page Redirects:
You can find out if you have a landing page redirect by using the PageSpeed Insights tool suggested earlier.  A landing page redirect is where the mobile user clicks on your link and instead of being taken to your main URL, they are directed to a second address. This could occur if your business has migrated its website.
When the user clicks on your link, they will be taken to webpage A (the old site) and then redirected to webpage B (the new site). In some cases, you might find that there are multiple redirects that take the user through a series of pages. This is called a Redirect Chain, e.g. webpage A to webpage B to webpage C. This can seriously increase the time it takes for the user to finally land on the right page.

So, cut out the middle man. Ensure that all redirects send users directly from the old page to the new.
4. Transfer to External Server Hosting
Outsourcing your web server hosting can not only improve your website performance, but it can also make life more practical for you. External companies will have greater security protocols put in place, have access to developer tools and will provide you with expert support.
If you think that transferring to external hosting will benefit your business and your website performance, get in touch with us today.
5. Correctly Deliver Your Web Page Content
Lastly, you need to deliver your content to your audience in the correct order. The best practice is to render all of the ATF (above-the-fold) content onto your user's mobile device before anything else.
ATF content is everything that is visible on the user's interface without scrolling down or clicking on any internal links. If you display key information about your business, any special offers you have on or conversion elements (such as call-to-actions) in this section of your website, you will catch the attention of your users immediately, reducing the number of people bouncing off your site and increasing click-throughs.
Remember, first impressions last!
One way that Google's developers recommend to prioritise ATF content is by correctly structuring your HTML. You can format your page to only send the critical pieces of data needed to render your ATF content, and delay the rendering of the BTF content. To do this you must separate the part of your CSS (Cascading Style Sheets) that is responsible for the ATF content.
Are You Ready to Take the Next Step to Improve Your Site Traffic?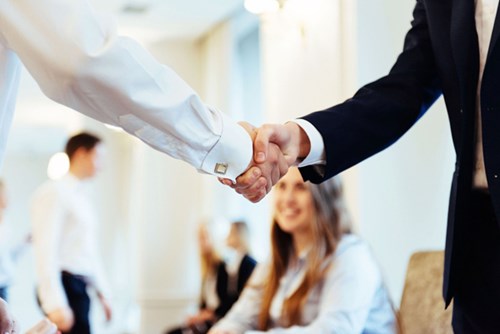 So, web browsing on mobile is becoming extremely important in the world of Digital Marketing. How fast your website loads can have drastic effects on your bounce rates and therefore potential customers.
If you are an established company struggling to beat your competitors on Google's search page, use these tips to drastically improve your page speeds and Google rankings.
Or if you are in need of a professional Web Design and SEO agency to build and maintain a responsive, multi-device friendly website, we can help! Contact Red Ant Solutions today for more information.
25 April 2019