Take control of your Local SEO today with Google My Business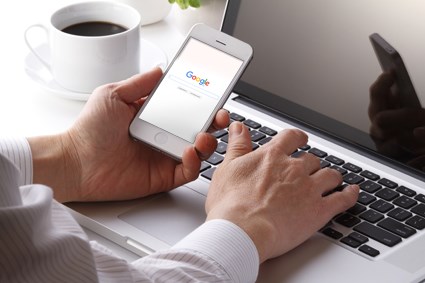 Google processes over 3.5 billion searches per day converting into 1.2 trillion searches worldwide per year. Wow, that is a lot of searches! A study from Hubspot, a respected marketing software platform found that 75% of users never scroll past the first page of search results. This indicates just how important it is to be visible on page one and how having a Google My Business (GMB) listing is a great way to achieve this.
According to brightlocal.com, a leading local SEO reporting platform, only 37% of businesses have claimed their Google My Business listing. That is a whopping 63% of businesses who are missing out on the opportunity of increased visibility on search results. Hello SEO opportunity! At Red Ant Solutions, we specialise in digital marketing and consider that a GMB listing is an opportunity not to be missed in any successful SEO campaign, and here's why.
What is Google My Business?
Google My Business is a free SEO tool connecting businesses directly with their customers through search queries and local search. It is a user-friendly platform with the primary purpose of helping users to find a business that is relevant to their search query. GMB plays an important role in the local SEO success of a business by helping to promote products and services to local customers at the time they are searching for them.
Why is Google My Business Important?
Google My Business offers fantastic opportunities for Businesses to increase their search visibility and local SEO. With the latest algorithms coming into play the focus is now on user intent and semantic search. This is where searches are aimed towards the user and most relevant search. Local results are determined by three main factors: industry relevance, proximity and prominence. This powerful combination helps to deliver users the best match for their search query.
Industry Relevance
Google delivers GMB results that are relevant to the users search query. Industry relevance determines how well your business fits the search intent of the customer. As part of our ongoing SEO strategy we ensure that all our clients' listings are kept up-to-date with accurate information by:
Ensuring the listing information is consistent with the website.

Ensuring the focus of the company is similar if not exactly what the user is searching for.
These methods help to keep listings relevant and accurate for your user search queries, contributing to improving your local SEO and most importantly keeping Google happy.
Proximity
We all know you can't rank in a local search for a Farrier in Surrey when your company is in London. Therefore, once the location is correct to the business locality, Google uses what it knows about the location of the searcher to create the most relevant local businesses available. It is very important to ensure that you know your location and where you are looking to target.
Prominence
This is related to the activity in your listing. Our SEO specialists focus on areas such as:
good quality links to websites,

consistent reviews,

updated photos and information



All of these help keep profiles up-to-date and in-line with all other areas of the business. As a Marketing Agency specialising in modern marketing communications, we aim to ensure that our clients have the best creative images to display their brand thereby providing them with the chance of a better overall click through rate versus their competitors.
Why are Google My Business reviews so important?
A recent study from the premier online review management platform reviewtrackers.com revealed how Google is dominating the review market, with 63.6% of consumers saying they are likely to check online reviews on Google before visiting a Business. Reviews act as a deciding factor for people who are comparing you with other brands. A GMB listing enables users to leave a review with ease which acts as a powerful tool showing local searchers previous user experiences. Google is committed to deliver the best possible results to its users therefore feedback from customers is one of the most accurate and reliable sources it can use to verify its trust in a Business.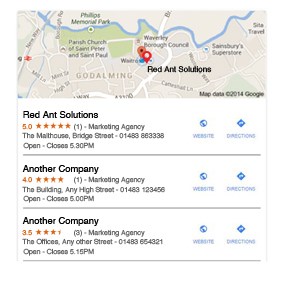 The features of Google My Business are rapidly evolving and becoming a key part of everyday SEO campaign strategies. From photo and video to virtual tour and insights, the GMB platform hosts many possibilities for you to increase your SEO visibility. A 2017 local search ranking factors study from leading SEO software and keyword ranking tool Moz, put Google My Business in the top spot. This study alone shows how influential a listing can be for an improvement in local SEO.
So we ask you, have you 'Googled Your Business' lately? Do you need help with taking advantage in what Google My Business can do for your brand? Then look no further, Red Ant Solutions are here to help. For improvement in your local SEO and increased brand awareness get in touch with our digital marketing specialists today on 01483 863 338 or alternatively email us on [email protected].
At Red Ant Solutions we believe in delivering the best possible results for our clients and that's exactly what you'll receive. We look forward to hearing from you soon.
By Fiona Reynolds on By Fiona Reynolds on 18 July 2018