My work experience at Red Ant Solutions marketing agency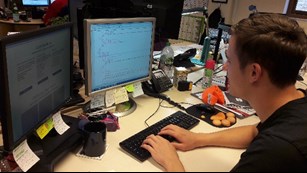 Hello, I'm Simon from Germany.
I took part in the Erasmus+ Work Experience program. During my three weeks based stay in England, I worked 4 days per week at Red Ant Solutions, a digital marketing company based in Surrey. My goals were to improve my English, get to know how it is to work in an international or English team and maybe to earn some practical experience in a warehouse
On my first day I was really excited. As my teacher said, I was wearing a suit and was there really early. So there was just my Supervisor. He was really friendly and showed me around the company and gave me a short introduction about the daily business. Also he mentioned that I did not have to come to work in a suit. I really appreciated that.
In my daily business in Germany, I normally develop software for technical wholesale warehouses. In the first week, I did a sales research job and couldn't talk very much to other colleagues about it. After I told my supervisor about my job in Germany he changed the agenda. That's a mark for a modern agile company.
This was one of the reasons why I spent my second week at the warehouse of their sister company, Quantum Marketing Services in Artington. I really enjoyed it, because I earned a lot of practical experience and the colleagues were very nice. In Addition I had to speak a lot more English, which helped me to improve it. Moreover there were a lot of different task to do.
After that week I spent the rest of my time back at Red Ant Solutions, but this time with the development team. The first day I wrote a report about my stay in the warehouse. I liked it, because I had to deal with my normal topics from Germany just in English. Afterwards they explained to me their development process and I could ask them a lot of questions especially about the web design and the techniques behind that. They really took a lot of time to look after me. I also showed them my work in Germany. Speaking of our daily work my supervisor had a great idea. We made a little competition about developing a website. At the end we compared it and they gave me a lot of tips. These tips will help me with my work back in Germany.
But Red Ant also does search engine optimization. Due to this, we optimized my work for search engines. In this way I saw the whole process in a practical way. This is exactly what I wanted to learn from my time here.
In Summary, it was a really wonderful experience to see all these differences between a big German company and a small English one. Because of the great care, I never felt like unnecessary luggage. They really adapted to my suggestions, so I could achieve all my goals. Due to this I want to thank the whole team for supporting me.
10 November 2017