Google Turns 20!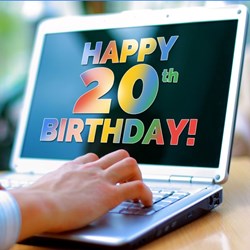 Google has played the lead role in shaping the way we use digital marketing today. It keeps us on our toes and can be our best friend and enemy all in one day. So to celebrate Googles 20th birthday here are 20 tips to perfect your digital marketing.
1. Fresh Content
Don't let your website go stale. Add a new blog post or news article to your website every so often. Google loves fresh content and this is a great opportunity to get more keywords in without stuffing your older pages. All you need to do is produce high quality and relevant content on a fully optimised page and Google will do the rest.
2. Know your Algorithms
Google is constantly changing its search algorithms, up to 600 times a year (that's a lot). While most of these are minor changes and as a digital marketer we don't notice much turbulence, occasionally we get hit by a major change. Whilst we get little to no notice on these updates, it is important to work with the changes as soon as they happen to soothe the blows.
3. Maximise User Experience
UX is key to a great website. Keep content simple and informative and the structure neat. A website that is easy to navigate on desktop and mobile will attract customers to return and possibly recommend to others.
4. Be Mobile Friendly
Avoid attracting Google Penalties for being out of date. Make sure you have a responsive and relevant website that is easy to use on mobile or tablet. With nearly 60% of all searches now carried out on mobile devices, it is crucial to have a mobile friendly website.
5. Google My Business
If you haven't set this up already, stop reading and do it now! This is a free and easy to use service provided by Google. It allows you to have a local presence, post as often as you like and be visible on Google maps.
6. Get Social
Here is another free and easy to use platform. Twitter and Facebook are great ways of getting your products and services out there. And if you want to target businesses then why not get on LinkedIn? Regular, quality posts that include links to your website will immediately get you noticed. Get this right and you'll be living the social media dream!
7. It's Ok to Pay!
Once you have great content on fully optimised pages, why not brag about it? So yes, it's ok to pay for Ads. Get this right, and it will increase your brand awareness and also deliver those precious conversions. Paid advertising is a great way to get on top of the competition during key sales periods.
8. Know your Brand
Know who you are. Knowing your brand values will help you create a tone of voice. This is key to getting customers to relate with your brand. A "brand analysis" will help set this out and help your company find its unique place amongst it competitors.
9. Local Website Hosting
Hosting your website locally isn't too critical, but to host in the same country as your visitors means they will get a faster page load speed. Just make sure you choose a good hosting team that are always willing to help.
10. SEO tools
There are many SEO tools online that are free to use. Some of these tools are great and really user friendly. Always ensure that you check any online tool out before deploying in order to ascertain its accuracy.
11. Know your Goals
Set your goals before you start. What do you want to achieve? Once you know this, the route to achieving these goals will become clear. Good goals need to cover a range of different measures to help set, review and control performance across all digital marketing activities.
12. Great Web Design
Everyone loves a good looking website. Combine this with a good user friendly layout and your customers will enjoy their time on your website. This will lead to an increase in returning users and a rise in new users will shortly follow.
13. Email Marketing
Email marketing is an easy way to get directly to the people your company wants to target. But this has its difficulties, with inboxes filled daily. So stand out, be unique and make the content engaging and consistent with the website. This is a great way to get your voice out there and direct customers back to the website.
14. Backlinks
Directories are a fantastic opportunity to get company website out there, but don't limit yourself. Set Google alerts to notify you of any brand mentions. Some of these mentions may already link to your website, others may not. If they don't, drop them a tweet or an email and request that link.
15. Be Approachable
Allow your customers to relate with you by making them feel that they are able to ask questions and discuss products or services. You should try to make this process as easy as possible by having your contact information readily available.
16. Keep on Trend
In the world of digital we are constantly dealing with updates and change. I find the best way to stay on top of this is to become a digital magpie and constantly gather information. There are some great digital bloggers out there who post a lot of tips.
17. Master your Schema
In the last couple of years Schema markup has become almost essential in providing search engines with the information needed to understand your content. By adding different types of markup to your pages will enhance the way that search engines display your website.
18. Use your Contacts
After working on multiple websites, I know that issues big and small can pop up at the most inconvenient of times. When these issues occur I am fortunate enough to have a web developer to hand who is always there in my time of need. Ensure you have a team there for you.
19. Take Control of Google Analytics
Allow analytics to become your friend. Set up an account and deploy the code on to your website. This will show you virtually all of the activity on your website and allow you to pick up on areas where you may have customers slipping away.
20. The Power of Reviews
Ask your existing customers to give you a Google/Facebook review. This will build your credibility when potential customers are checking you out. There is also an SEO benefit to this as Google will rank your company higher in the search result pages.
Here's an idea, why don't we take care of this for you? Call us today on 01483 863338 and we can drive your website to where it needs to be to get ahead of your competition.
Happy Birthday Google!
27 September 2018