"FIFTY" - Our Latest Web Design Client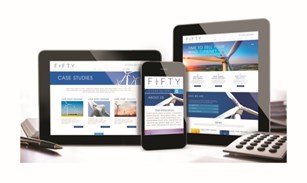 We are excited to announce our latest Web Design Client - FIFTY.
FIFTY is a private equity-backed business actively engaged in the acquisition of on-shore wind turbine sites.  With a complex financial proposition to explain, the website structure, calls-to-action and content positioning were of increased importance.
With a refreshed brand also rolled-out as part of the project, we designed a website and page templates to relay their service and field of expertise via both visual means and by ensuring that the visitor journey was optimised and worked consistently across all devices.
This website clearly explains their proposition and achieves great search engine results due to the content and copy strategy that was integrated into the design.
We are also delighted to be working with FIFTY on their SEO Strategy, applying Google best practise strategies to potentially optimise the opportunity of making first page rankings.
If you are looking for an agency who can design, build and manage your website along with the additional advantage of ongoing SEO support, Red Ant Solutions would love to hear from you.  Please contact us by emailing [email protected] or calling 01483 863338.
12 December 2016