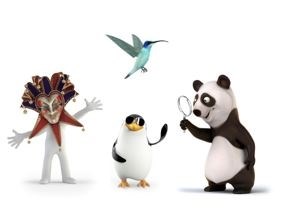 You can download this guide as a PDF.
As Search Engine Optimisers we are always looking into the latest Search Engine Algorithm Updates that are regularly introduced by Google who aren't always forthcoming about what affects their latest tweaks will have on our client's sites.
Google dominates the search engine market and according to Net Market Share it was the most popular search engine in 2017, holding on average 74.54% market share.

So as SEOs we use Google's Best Practice recommendations to ensure that our client's sites perform as best as they can. What makes our job hard is that Google's algorithms gather over 200 signals from a site in order to work out whether they are relevant to the search query and then rank the results that are – from most suitable (position 1) to least relevant……..
Our clients often ask us why their rankings in search engines fluctuate, this is a very hard question to pinpoint exact reasons for. Not only does it rely on what is happening on the website itself, there are also external factors such as the quality of backlinks and what competitors are doing to improve their SEO.
Then sometimes it may be because of a new algorithm update that has been released by Google, sometimes sites will incur big changes in ranking positions and sometimes there will be no change at all.
Below we take a quick look at some of the most prominent Google algorithms and how they affect the rankings performance of websites: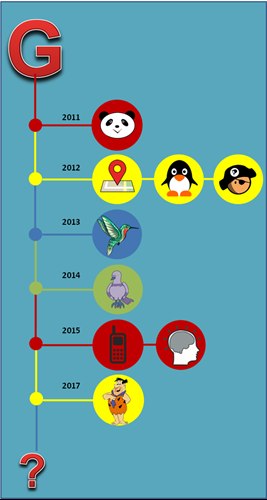 2011 - Panda
Panda looks to give rankings boosts to sites that have engaging, fresh and unique content
2012 – Venice
Looks at a searchers IP address to return local search results
2012 – Penguin
Penguin looks at the incoming backlinks to a site; high quality, relevant links are a ranking signal to Google
2012 – Pirate
Penalises sites which are in breach of copyright laws
2013 – Hummingbird
Provides better results for long tail keywords, it helps Google to better understand the topic of the page.
2014 – Pigeon
Pigeon was released to provide more accurate local results in search results based on where the user is searching from.
2015 – Mobilegeddon
An algorithm that supports mobile-friendly webpages over non-responsive pages
2015  - Rankbrain
It is part of the Hummingbird algorithm and is a machine learning artificial intelligence – a step closer to Google being able to understand pages without relying on meta data.
2017 - Fred
Fred penalises websites that use black hat techniques such and have a poor user experience rating. It also penalises sites with low page content.
You can also download a more in-depth PDF guide here.  
What is to come…..
Although nobody knows exactly what Google will do next we can make some educated guesses. Mobile is continuing to be a main focus with Google, especially since the introduction of AMP pages.
What we have not yet seen above are the mention of any ranking signals from social or voice search. These are both huge areas that will continue to grow over the coming years.
What Red Ant Do
The world of SEO is constantly changing and here at Red Ant Solutions we are very experienced in search engine marketing. We develop and manage SEO strategies in order to increase your organic traffic as well as make recommendations to keep your website in line with Google Best Practice.
If you would like help with your search rankings then you can get in touch  with us today either via email or by phone.
 
12 March 2018