New website designed and built for long-term, local client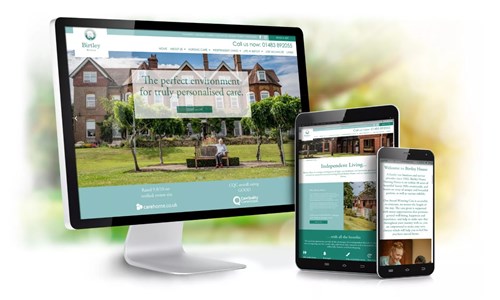 An engaging new web presence
When our team at Red Ant Solutions was approached by our long-term client to build a brand new online presence, we were only too delighted to be able to deliver an engaging and informative website that we are rightly proud of.
Birtley House is a family run business and care service provider since 1932, set within 48 acres of beautiful Surrey Hills countryside. They have been a client for well over a decade and so when their website presence started to look a little dated, naturally they came to us. The brief was to bring their online presence into the 2020's taking advantage of modern design to improve the user experience on the site and help further improve the conversion rate.
Market Research
We decided that initially, we needed to conduct a detailed review of their market sector. The information gained highlighted how competitive this industry is within the UK and how important it is to have a website that gets across your message, values, culture, and services and can then prompt an enquiry. That's a lot to ask of any website but luckily we have the know-how and our client had an amazing stock of photos.
WordPress CMS
We decided that WordPress would be the best and most robust CMS solution for this project and our WordPress website designers pride themselves in creating slick, user-friendly interfaces and over the years have developed a unique blend of skills to achieve this. 
New Website Delivered
With the design and development stages completed, and after an extensive internal review and client approvals, we ended up with the outcome that we had promised. The new website highlights the great standard of care that is given and really gets across the lifestyle enjoyed by their residents and the results of all the hard work that the team at Birtley House achieve every day. The new website is expected to be as long-lasting and provide an excellent ROI as the last website that we built for them.
How Can We Help You?
Red Ant Solutions also delivers a full range of digital marketing services to this client, including graphic design, search engine optimisation, website hosting, and full CMS training and support. Further digital marketing services are in the pipeline to ensure the continued success of their business.
If you would like to know more about Red Ant Solutions and what we can do for your business, please fill in our enquiry form or call me, Mark Reynolds for a chat on 01483 863338.
02 February 2020